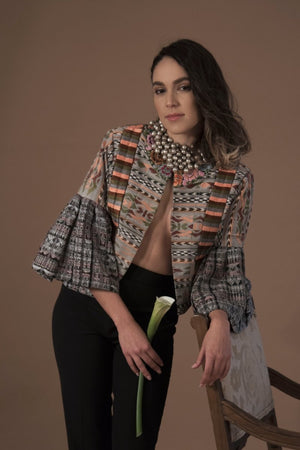 Down to Xjabelle - Grey Huipil Jacket with Bell Sleeves
Sale price Price CHF 380.00 Regular price
Grey jacket with bell sleeves made of a traditional Guatemalan hand embroidered huipil and jaspe (ikat). 
Designer: Isabella Springmühl for Down to Xjabelle 
Materials: cotton 
Production method: foot loom
Design: jaspe pattern
Place of origin: Maya region K´iche'. Salcajá, Quetzaltenango
Hand made in Guatemala
The designer uses traditional Guatemalan textiles from different regions that already have a life behind them. As a result, the textiles can show small imperfections that give the piece its unique character.