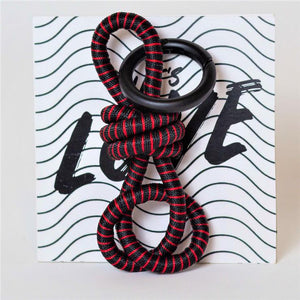 Sequence Collection - Let's Love Knot Keychains
Sale price Price CHF 50.00 Regular price
The "Let's Love" keychain is designed with Sequence's signature knot and 2 intertwined circles symbolizing the connection between you and another person.
Threaded with an eye-catching keychain with a large knot.  

100% Nylon thread. 
All products are handcrafted in El Salvador by a group of young artists living in at-risk communities. By purchasing their products, you are helping them break the sequence of events that lead to violence by allowing Sequence Collection to employ more young men and women.