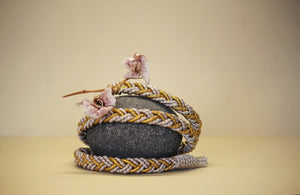 Sequence Collection - Detachable Long Braided Strap
Sale price Price CHF 70.00 Regular price
The Sequence Collection braided long strap is perfect for the Sequence Tote bag, or to attach to any of your bags at home.
Braided handles include detachable matte black spring rings.
All Sequence products are handcrafted in El Salvador by a group of young artists living in at-risk communities. By purchasing our products, you are helping break the sequence of events that lead to violence by allowing Sequence Collection to employ more young men and women.
When you pre-order please allow approx. 8 weeks for delivery since it will be produced just for you. 
Also available in other colors.